TriBeCaStan
New Deli
Evergreene Music (www.evergreenemusic.com)
Music of this sort must always be approached with caution. When the name of the band (which in full is TriBeCaStani FolkLorkEstra) is a cross between a New York City neighborhood and a fictitious Central Asian nation, when the CD has song titles such as "The Brain Surgeon's Wife Serves Lunch," when the liner notes read like something only hardcore Borat fans would find genuinely funny, you'd better beware. Of course, if you've got some prior knowledge of this group (whose name is a pain in the ass to type so from here on I'm going to do it without the additional upper cases), you can relax a little. I liked their 2008 release Strange Cousin and I like this new one too.
Tribecastan has become more of a real band, rather than just a couple of guys and a roster of special guests. They're still headed up by multi-instrumentalists and confirmed nutcases Jeff Greene and John Kruth, they still celebrate a spirit of global music goofiness that goes at least as far back as 3 Mustaphas 3 and they still combine musical styles in truly clever and skillful ways.
'What musical styles?,' you may well wonder. A tough question. In just the first three tracks on New Deli, I caught strains of klezmer, New Orleans second line, Latin jazz, Chinese traditional, Balkan brass, zydeco, bluegrass, Brazilian capoeira, Afrofunk and a healthy level of kitsch. Then I got to the Arabic-tinged version of "Please Don't Let Me Be Misunderstood" and allowed all the sonic receptors in my brain to fall back and regroup, not that I was then fully prepared for what followed. The Tribecastan originals were varied pleasures aplenty, but what they did with those Ornette Coleman and Don Cherry compositions was sheer wicked brilliance. Not surprisingly, the anything-goes approach never lets up, and whatever sense of the silly might occasionally intrude, the fact remains that Tribecastan are damn fine musicians and they put it all together like the most hellishly heavenly world music band you're ever going to hear. -Tom Orr
Visit www.TriBeCaStan.tv
© 2012 RootsWorld. No reproduction of any part of this page or its associated files is permitted without express written permission.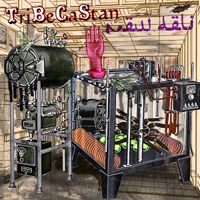 RootsWorld depends on your support.
Contribute in any amount
and get our weekly e-newsletter.
<!!! script type="text/javascript"> <!!!! script type="text/javascript" src="http://pagead2.googlesyndication.com/pagead/show_ads.js">
Thanks for your
support
of RootsWorld