Various Artists
To What Strange Place: The Music of the Ottoman-American Diaspora 1916-1929
Tompkins Square (www.tompkinssquare.com)
Experimental musician, record collector and ethnic music autodidact Ian Nagoski, known for his Black Mirror compilation on Dust to Digital, as well as his vinyl-only compilations of ethnic 78s jointly released by Mississippi and his own label, Canary, curates what is easily his most thorough, penetrating and fascinating collection yet with this 3-disc set. The music here, mostly recorded in NYC by an evolving diaspora fleeing genocide and war of the twentieth century's 2nd decade, and played live in downtown cafes and homes, is an astonishing assortment of Greek, Turkish, Armenian and Syrian traditional music. Here are tracks of vocal and instrumental loneliness by the likes of Achilleas Poulos and Marika Papagika, solo violin taxims, brooding zembekikos for solo guitar and voice, Ottoman classical court music, hash-fueled rembetika, a mandolin-based version of "Miserlou," (before it was covered white pop vocalists and surf bands), and all other manner of Mediterranean folk form, seemingly unchanged by thousands of miles of travel and no doubt influenced by the records these people carried with them to their new home, examples of which are featured on disc 3.
Obviously, this collection is hardly the first to start bringing this music, made in the US and in the musicians' home countries, to light. Labels such as Heritage, Rounder, Arko, Folkways, Folklyric and others have documented Greek Rembetika and 78-era post-Ottoman recordings in general. Nagoski's own LP of Papagika's stateside recordings may also still be available. Yet this is likely to be the most detailed. To listen is to have geographical lines blurred, as melodic and rhythmic connections get made between cultures, all thriving in a small chunk of downtown Manhattan. Nagoski's track-by-track comments give further perspective on who these folks were, how they got here and how they lived. In fact, because Nagoski's information, though certainly not complete, is so immense, the last hunk of disc three gives over to his voice detailing the labels, where they were located and when they flowered, giving a sense of how they marketed ethnic music. He also speaks about the Ottoman Empire's rise and fall, and how this fall led to a deep resentment of minority groups, who ultimately either migrated or were killed. Hundreds of thousands of Syrian, Greek and Turkish Christians and Jews came to North America in the early 20th century, hence the music on this set.
While it's frustrating that this information couldn't have been printed for repeated reads and the entirety of the three discs devoted to the music, it's an amazingly thorough historic account, giving many of us a crash course in Greek, Turkish and Syrian-American history, not to mention allowing the music to have specific cultural context. Yet it's ultimately the music itself, often forlorn, passionately played and always beautiful, that makes this collection Nagoski's, as well as label Tompkins Square's brightest feather in an already handsomely adorned cap. - Bruce Miller
© 2012 RootsWorld. No reproduction of any part of this page or its associated files is permitted without express written permission.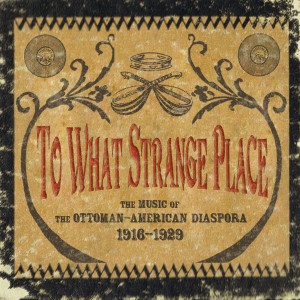 RootsWorld depends on your support.
Contribute in any amount
and get our weekly e-newsletter.
<!!! script type="text/javascript"> <!!!! script type="text/javascript" src="http://pagead2.googlesyndication.com/pagead/show_ads.js">
Thanks for your
support
of RootsWorld