Rossano Sportiello - Italy's jazz is no longer In the Dark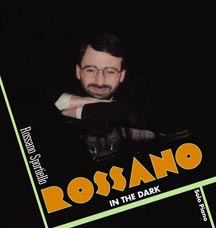 Rossano Sportiello
In the Dark
Blue Swing (www.blueswing.com)

European jazz shouldn't be understood simply in terms of what's been called avant-garde, or that post-Coltraneanism some people complain is all the jazz some US music schools mention. While some Scandinavian music called jazz is just Scandinavian music performed with jazz instrumentation, not jazz, and often very severe, across Europe approachable and creative jazz of sorts which has been played for decades is still played very well, and not without innovations. In Italy Rosario Giuliani (late sensation in New York) and Stefano La Batista (with or without McCoy Tyner) don't try to sound like older players. Making no effort to combine anything with jazz they've an amazing lyricism, miles from the blousy alto saxophone of ads, porn and some American contemporaries.

Now Rossano Sportiello has emerged, from the Italian music academy and the ubiquitous Bill Evans Keith Jarrett soundtrack. He's madly in love with the music the late Ralph Sutton began making as a boy in Missouri, himself in love with Harlem Stride piano, which he heard between jokes n Fats Waller radio broadcasts. This music was worth playing, Sutton was a kid among veterans when pre-1930s jazz came back after 1940, a kid veteran among a new generation in the later 1940s, and aged 79 when Rosanno met him, playing different rooms on different floors in the same Swiss inn.

Ralph's basis was power and precision, slightly less of the latter after a stroke suffered in his early seventies. Rossano respected the drive regardless of slight latterday clinkers, admirable in a man of his own finesse and technique.

On his first American-produced CD, while Sportiello takes Art Tatum (as fallen in love with by the Pole Adam Makowicz) as the model for "After You've Gone," the stride style flitted into easily is individual. The CD label belongs to Dan Barrett, trombonist, leader, more.

" 'S Wonderful" is more stride, effortless, note perfect, relaxed and therefore invigorating, reminiscent slightly of the Italian-American master Johnny Guarnieri. What could this new guy do if he broke sweat? Beiderbecke's "In the Dark" won't tell you, German-American French Impressionism, a composed piece but unhurried, phrased with a pulse. Fresh. "O Sole Mio" opens with the same open, lyrical delicacy, beauty then a walking bass which is almost a new composition, a couple of choruses and all the implicit accents combine into a stride chorus. Playful! Then a "Bill Evans Trilogy," hardly more than three repeated theme statements -- but such themes! -- and then "Marguerite," which Dan Barrett thinks might really be a Jelly Roll Morton tune. It gets danced up between a lyrical statement and some flourishes where the one-two Harlem rhythm is broken up into the one-two-three-four of Teddy Wilson.

The Great American Song Book's forefathers came from the Russian Shtetl, and grew up among pianists exposed to European Romantic repertoire and East Coast America's African dance (the Charleston is a transcription of cross-rhythms struck by feet -- Dizzy Gillespie claimed that actual drums were banned among slaves). So after van Heusen and Burke there's a properly light-stepping stride account of Gershwin's "Strike up the Band," with a passage of fast-walking left hand. The great Harlem pianist Luckey Roberts, friend of British royalty, did ask why nobody ever mentioned the music lessons he gave Gershwin.

Irving Berlin's "How Deep is the Ocean" is arpeggios mapping harmonies, changing pace, over variations in left hand rhythm, Gershwin's "Nice Work if You Can Get It" was redrawn by Thelonious Monk into the rhythmic patterns restated here with orthodox technique, excitement from touch and timing, never hitting hard, any more than in the loping pianistic adaptation which never plays the melodic line of Hoagy Carmichael's "Two Sleepy People." The Carmichael tune's taken like an accompaniment which grew with no need of the singer.

With single-note running bass "Rosetta" is boppish with nothing of the methods of its composer Earl Hines. "Perfume and Rain" does however emulate its composer, the uniquely lyrical Ellis Larkins, whose approach and sound were unique. Rossano's a Larkins enthusiast, for the subtleties of not simply settling by a standard of lyricism, but setting one. Ted Shapiro's "A Handful of Stars" makes one regret that the great cornetist Ruby Braff didn't live to relive what he did earlier with Larkins, although Bob Barnard would be a great partner for the young Italian. Australians can fall in love with the cornet too, and Barnard's a master.

As Dan Barrett notes, Louis Armstrong never recorded his own "When You Leave Me Alone to Pine" under his own name. The 1923 record was never issued, but what could it have sounded like? It's a very pretty tune, and what inspired it? The American pastoralist Eastwood Lane was a minor composer with French impressionist interests who inspired Bix Beiderbecke, and his "Land of the Loon" is a nice prelude to a tune named for Lane by Dan Barrett. Traditions. Victor Young's "Love Letters" is delivered first in lyrical idiom, then at mid-tempo with ambling left hand in the timing perfected by Dave McKenna, a master acknowledged by Sportiello. It's hard to imagine anybody but the lovely McKenna left hand, now silenced by diabetic neuropathy, evoking the same growls, grumbles and even grunts from the bottom forty-four or more keys of the piano. Rossano Sportiello has his own moving and gentle take on "Love Letters," carrying over a great deal from wise elders, with individual satisfying grace. - Robert R. Calder

CD available from Blue Swing


© 2006 RootsWorld. No reproduction of any part of this page or its associated files is permitted without express written permission.