Karl Seglem
Lærad (The Tree)
NORCD (www.norcd.no)
"Silence is an acre we can plough with our breath." - Karl Seglem
Multi-instrumentalist, composer, and poet Karl Seglem has developed a reputation in his native Norway as the foremost virtuoso of the traditional bukkehorn, or billy goat horn. Drawing on an extensive background in jazz and free improvisation, Seglem has extended the instrument's function beyond a signaling device for shepherds into unprecedented realms of performance.
| | |
| --- | --- |
| | "Til Fjellet" |
On Lærad (The Tree), he takes the spirit of world music to heart by offering up the sounds of three distinct instruments—the tongue-horn, trumpet-horn, and antelope-horn—to a host of arrangers and guest artists. All of this yields a multi-faceted collaboration you'll not want to pass up.
"Minnedrope"
"Veven"

One might draw affinity between these sonic assemblages and those of nu jazz artists Nils Petter Molvær and Eivind Aarset, as well as the open-plain constructions of American guitarist Steve Tibbetts. Such comparisons, however, give only an atmospheric sense of things, for Seglem's horns sound like little else on earth. Depending on the method employed—that is, whether he plays with lips pursed as if to a trumpet or with the aid of an attached reed—he can create a specific array of effects. Where one method yields a didgeridoo-like attention to overtones and vocal colors, the other frees Seglem to experiment with more determinate melodies. That being said, you won't likely walk away from ambient, drone-infused constructions like "Minnedrope" and "Minneslagg" with any particular motif running through your head. They rather fulfill promises of transportation, carrying listeners through landscapes awash in greens and ochers.
"Einherjedansen"

"strange weight of ashes"
Other pieces are less nomadic. Both "Strange Weight of Ashes" and "Einherjedansen" congregate around explicitly rhythmic settlements. The former's muted piano arpeggio evokes raindrops, while the latter's Middle Eastern percussion paints in broader strokes. "Gå Rundt Eldrimne," too, casts a wide net, while "Valkyriane" blends vocals and trip-hop beats in a way that doesn't simply transcend barriers but renders them immaterial. And really, that's the key that opens every door here. In combining seemingly primal horns with the sheen of studio technology, Seglem reveals the futurity of his instruments and the antiquity of the digitalia surrounding them. The horn's guttural unpredictability makes it all the more intriguing to take in, as is most apparent on "Elektrobukk," in which the horn serves as a conduit, receiver, and amplifier all in one. This intense, free duet with drummer Hans Hulbækmo is a highlight to be sure, an alluring exercise in potential.
Changing up the program is a peppering of solos throughout. Each polishes a new frame in which to divine the imprints of every post-produced gesture, only to remind us that music is ultimately nothing but breath and bone. - Tyran Grillo
Visit the artist online: www.karlseglem.no
© 2015 RootsWorld. No reproduction of any part of this page or its associated files is permitted without express written permission.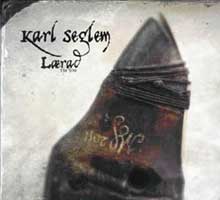 Lærad (The Tree) is RootsWorld's October 2015 Music of the Month selection.
You can subscribe to the series, or get just this individual CD by visiting our Rent Party.