The Rough Guide To The Music Of Japan
World Music Network (www.worldmusic.net)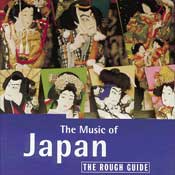 By their nature, maps lie because they hide the fascinating nooks and crannies of island nations such as Japan and provide us with a distorted caricature of reality. Music helps penetrate cultural complexity, yet it too can confuse if our focus on an ancient land is guided by our own preconceptions. The rich tradition of the folks that brought the world Sony is frequently addled by jazz, rock and influences from other Asian nations. Taiko drum, samishen, biwa, and shakuhachi are good starting points, and on The Music of Japan you'll hear plenty, but these recordings offer much more. And it's the more that lets this music out of its box. Saxophones, clarinets, accordions, and keyboards all find a place, as do the experimental sounds of The Surf Champlers ("James Bond Theme"), a foray into Okinawan trance music.
Okinawa in general is showcased by musicians as varied as Makoto Kubota & The Sunset Gang; WOMAD UK veterans Yasuko Yoshida and Tetsuhiro Daiku; and Takashi Hirayasu. All provide different and distinctly unspoiled music and should not be missed. Robust traditional sounds from the main island, though central, also pull in the world. For example, Yasuba Jun & An-Chang Project offers a traditional vocal/instrumental composition that doesn't fully come alive till you become aware of the sizzling background electric guitar. If you're not yet familiar with the phenomenal Takashi Hirayasu, get acquainted now. Kawachiya Kikusuimaru's reggaefied "Kankin Ondo" will open your ears to how some might view "world music." Nor will you want to miss the superb improvisation on sanshin (Ayame Band), and samisen (Michirio Sato). There are historical reminders, such as Yukihiro Goto, who plays the Japanese biwa, an instrument with origins in ancient Persia that found its way to Japan in the sixth century. And so much more. The Music of Japan stands on its own as an innovative and thoroughly satisfying addition to The Rough Guide series, leading to complete albums for those artists you just can't resist. - Richard Dorsett