Ryan McGiver
Troubled in Mind
Artist release (www.RyanMcGiver.com)
| | |
| --- | --- |
| | Listen to the audio review |
Journalists love to put labels on music. New York stonemason, singer and musician Ryan McGiver certainly begs for one. Modern folk? Postmodern roots? New Americana?
I think I'll settle on simply folk music. With production partner Shahzad Ismaily and a small cadre of musicians on pump organ, percussion, fiddle, bass, bouzouki, concertina, clarinet and backing vocals, McGiver has taken eight songs from Anglo American tradition and rendered them in sparse, painterly fashion. Each is moody, each is unique. It can be a simple guitar and fiddle rendition of the old murder ballad "The Ballad of Rose Connelly" that starts the album, or the elegant horn and vocals of "I Wouldn't Mind Dying" that closes it.
There are songs of travelling, songs of woe, songs of lost love and impending death, perennial themes that we all know too well. McGiver and company breathe new life into them not by jazzing or popping them up, but by stripping them down to the bare bones and then slowly and carefully rebuilding them up just as much as needed, and not a layer more. Their imaginative takes on old classics like "Georgie" and "The Plains of Illinois" are chilling in their dark simplicity and "I'm Troubled, I'm Troubled" has a gentle but insistent drum shuffle that gives it genuine movement. High praise goes to both McGiver and Ismaily for elegant and judicious use of the musicians and the recording medium.
The center of the recording offers two contemporary songs. "Tazewell Girl" was written by McGiver's uncle, clawhamer banjo player and farmer, Neil Driscoll. The second is Randy Newman's "Texas Girl at the Funeral of Her Father," which McGiver makes feel as traditional as any of the ancient songs that surround it. It encapsulates everything that is marvelous about this recording: the plaintive voice, the eerie interlude that sounds like wind on the prairie, funereal and uplifting.
Troubled in Mind is a whisper of wind across a fallow field, a distant railroad whistle on a long closed track, a lonesome cry. It's past-modern folk music. - CF
CD available from the artist
© 2012 RootsWorld. No reproduction of any part of this page or its associated files is permitted without express written permission.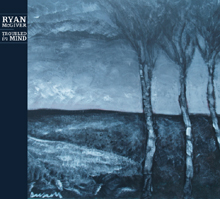 RootsWorld depends on your support.
Contribute in any amount
and get our weekly e-newsletter.
<!!! script type="text/javascript"> <!!!! script type="text/javascript" src="http://pagead2.googlesyndication.com/pagead/show_ads.js">
Thanks for your
support
of RootsWorld