Matuto
The Devil & the Diamond
Motéma Music (www .motema . com)
When Clay Ross moved from South Carolina to New York in 2002 to make his mark as a jazz guitarist, he couldn't have imagined where his musical journey would take him. After becoming a part of the thriving, multicultural music scene in Brooklyn, Ross met up with accordionist Rob Curto, a North American purveyor of Brazilian forró music and leader of Forró for All. Together the pair began to explore the popular music of Northeastern Brazil, which eventually led them to Recife where they studied the folkloric rhythms of forró, chorinho, samba, coco, maracatu and frevo.
Matuto's second album, The Devil & the Diamond, expertly blends Afro-Brazilian folk music with a hefty slice of Americana. While the accordion-driven forró music is at the heart of this release, Appalachian bluegrass, New Orleans R&B and Louisiana Cajun music rounds out Matuto's distinctive sound. Sawing accordion and fiddle harmonies are accentuated by rolling drum lines, punchy double bass and twangy guitar riffs. These songs wouldn't sound out of place at a favela community center in Salvador or at a street performance in The Big Easy.
The temptation and trickery of the devil is a recurring theme on The Devil & the Diamond. According to Ross, "The devil is what's keeping us from our best selves, which is the diamond we have the potential to become." The tension and release of these opposing elements offers a sense of mystery and intrigue throughout the album. Songs like "The Devil's Hand," "Drag Me Down" and "Demon Chopper" evoke scenes of desperation while "Diamond," "The Way I Love You," and "Matuto Chant" balance things out with their uplifting lyrics. While many bands attempt ambitious fusion projects, few succeed in such an authentic way. Matuto does a fine job playing the music they love with conviction and purpose. - Alex Brown
---
Listen to the band play "Tears," performed in November 2012 on Music City Roots, live at the Loveless Cafe, Nashville.
You can also hear a track from the recording on RootsWorld Radio #52
© 2013 RootsWorld. No reproduction of any part of this page or its associated files is permitted without express written permission.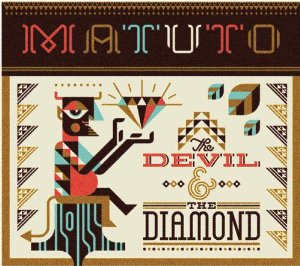 Listen