Boban Markovic Orkestar
Live in Belgrade: The Best Trumpet of Guca
Piranha Records (www.piranha.de)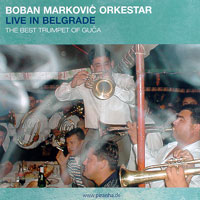 Ottoman military brass bands inspired Balkan Gypsy players to a blistering musical repartee of their own eclectic creation, hammered out with the devil-may-care élan of a marginalized ethnic minority certain of little else in a deceitful world. In Tito's vanished Yugoslavia, at the Guca Brass Festival, Serbian brass royalty congregated for an annual blowout. Cutting all contenders, it was there that Gypsy trumpeter Boban Markovic made his name. Live in Belgrade captures all the strutting vitality of his band, complete with Markovic's vocal interjections, the natural reverb of live sound and, hanging on every lyrical phrase, the raucous appreciation of a passionate, knowing audience.
The Orkestar's unassailable wall of brass includes eight horn players, a saxophonist and two percussionists. Of the nine tracks, seven are dazzling Markovic arrangements of traditional Serbian, Gypsy and Jewish dance tunes. "Otpisani" opens with a menacing bass line and percussive horn harmonies, over which Markovic's warbling trumpet casts a ska-like spell. "Hava Naguila" assumes a startling aura, arguably the dizziest oom-pah flogging this well-traveled chestnut has ever endured. "Ring, Ring" lays down a brassy coda to Momcilo Kristic's other-worldly sax lines, in a wailing, soaring attack that could be a snake charmer's lung-splitting etude, set against Markovic's sustained exhalations and a fundament-rocking brass foundation. Kristic's resonant reedy touch also weaves a redolent counterpoint to Markovic's stately vocal on "Zajdi, Zajdi," a sober ramble shifting suddenly into the thundering fanfare of "Vodopad." The album's longest track (nearly twelve minutes) is an energetic brass medley of Balkan Gypsy cocek dances, levitated upon some outlandish sax and dead-on percussion to go.

Composer Goran Bregovic's "Mesecina" features Markovic's trilling, feathery vocals, sounding like a funkadelic call to cosmic prayer, with an accelerating figure heading somewhere to the left bank of beyond. The band also reworks "Disco Dzumbus" (by sometimes-collaborator Lajkó Félix, the Hungarian Gypsy violin sensation), the band's thumping, rapid-fire secret weapon to drive out the preening Templars of Saturday night pump-and-hump fever, once and for all. Heading out with a somber traditional refrain, Markovic authenticates a rare artistry, layering one sublime and bittersweet phrase over another on "Ederlezi," a reverential essay that inheres with all the understated musical sentiment, human misfortune and receding terror of the late-breaking Balkan tragedy. Straight, no chaser, this is the impossible virtuosity of a man who has already tried everything else. - Michael Stone

Available at cdRoots

Audio (p)(c)2002 Piranha Music, used by permission