Lila Downs
Pecados y Milagros
Sony Music (www.liladowns.com)
Ever the musical chameleon, Lila Downs again evades categorization on her new CD, the title of which means "Sins and Miracles." The Oaxaca-born daughter of a Mixtec Indian mother and a Scottish American father, Downs' eclecticism is no doubt rooted to some degree in her heritage but goes well beyond it. While her past albums have, rather expectedly, included takes on Mexican and American folk music, Downs has increasingly embraced various aspects of jazz, blues and rock as well as Latin styles ranging from just south of the border to way south of it. She's got a voice that can carry all manner of emotions between heavenly and harrowing, and her marriage to saxophonist/composer Paul Cohen has given Downs a collaborator who shares her sense of musical adventure.
That adventure continues on Pecados y Milagros, which has Mexican tradition at its core even as it blasts off into excursions of Balkan brass, hip hop electronics, swaying Afro-Colombian rhythms, Klezmer-like frenzies and vocal excursions almost operatic in scope. Songs that sweep you up like in celebration alternate with more tender moments, and Downs demonstrates her usual flawlessness with both. Six of the tracks are Downs/Cohen originals; the rest are covers by Mexican songwriters who inspired Downs to travel her own path, and the spin she puts on them, from the stately swirl of Tomas Mendez's "Cucurrucucu Paloma" to the fusing of Catholic liturgy and ancient Oaxacan verse on "Misa Oaxaquena," are unique and thrilling. The album is a visual feast as well, with each song accompanied in the booklet by a specially rendered painting that mixes sacred and secular themes in much the same way the music itself does. Supernatural intervention in spite of human failings would seem to be the theme of this release, and the wonderfully varied music conveys both joy and pain. - Tom Orr
© 2012 RootsWorld. No reproduction of any part of this page or its associated files is permitted without express written permission.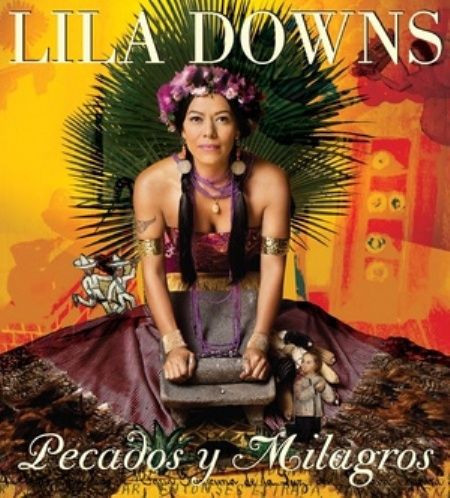 RootsWorld depends on your support.
Contribute in any amount
and get our weekly e-newsletter.
<!!! script type="text/javascript"> <!!!! script type="text/javascript" src="http://pagead2.googlesyndication.com/pagead/show_ads.js">
Thanks for your
support
of RootsWorld