Kevin Seddiki & Bijan Chemirani
Imaginarium
World Village (www.worldvillagemusic.com)
Bijan Chemirani and his brother Keyvan are both prodigies of the Persian drum master, Djamchid Chemirani, and their seemingly implacable desire to integrate with other musicians around the world is evident in their history of releases. Since their monolithic 1997 release, Trio de Zarb, the family's musical wanderlust has led them all over the world. Bijan Chemirani's travels brought him to record with African balafon and kora players (Neba Solo Trio, Ballaké Sissoko), masters of Greek music (Ross Daly, Stelios Petrakis), East Indian Carnatic vocalists (Sudha Ragunathan), as well as multi-instrumentalist wizards like Efrén López. Kevin Seddiki also plays percussion, but his primary foundation is guitar, working with the likes of Al di Meola, Glenn Velez, and Lebanese artist Yasmine Hamdan. He has recorded and performed with Bijan before, as part of the Oneira 6tet, and his playing on 2008's Orion with Stelios Petrakis was more than enough to rouse curiosity and appreciation for whatever technique and background gave him his sound.
Imaginarium presents both new work and some well-known jazz tunes stemming from the two artists. The new tunes are rhythmically ambitious. "19 Bridges" is written for 19 beats (or what in Indian culture is often referred to as a 9 ˝ beat cycle), and some have cycles more common to Persian culture (the 10/8 in "Sar Andjam," and the 5/8 for "On Saturn's Rings.") There is also a tune based in 11-beat cycles, "Schumannsko," and the rhythm that underlays the Africanesque sounds in "Bamako" is based on a count of 15. This variety comes in addition to the more familiar jazz nature of the Brazilian chorinho tune "Cochichando," and a beautiful jazz variant of the Charles Aznavour/Jacques Plante tune, "La bohęme."
Some sounds coming from the drums and guitar are new as well. The zarb used in "On Saturn's Rings" is a newer modification to the drum where snares are applied, resulting in a hybrid sound combining zarb and cajón. In the same track, the guitar's foreign harmonies, pick slides, and chirps paint an otherworldly picture upon a beat with shifting rhythmic emphasis. The guitar work in "Bamako" sounds frayed, as if paper were covering the sound hole of the instrument. The tone is still there, but a subtle rattle accompanies each note, and its intensity matches the volume of what is played. The outcome is an atmosphere of frailty or brokenness that affords more than if the guitar were played standard.
Although it can't be referred to as a fault, the big cross-cultural collaborative projects they have both participated in (with the numerous personnel and talents onboard) can often create an album that is very intensive – where the most relaxed moment is a brief introduction preceding the tune, or an individual's solo/taksim. Imaginarium comes from a different angle: brave in its exploration, subtler in its energies, and giving much attention to painting an atmosphere by including techniques that are more than just stunts, but sounds inherent to the nature of the work. As an album both exotic and familiar, and mindful and gentler in its energies, Imaginarium satisfies deeply. - Seth Premo
Further reading:
Stelios Petrakis, Efren Lopez, Bijan Chemirani: Mavra Froudia
Trio Chemirani: Invite
Henri Agnel, et al - Istanpitta: Danses Florentines du Trecento
Urna: Amilal with Djamchid Chemirani and Keyvan Chemirani
Bijan Chemirani with Ross Daly - Gulistan
© 2014 RootsWorld. No reproduction of any part of this page or its associated files is permitted without express written permission.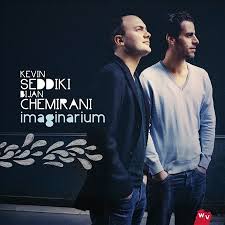 Listen