Davey Graham
Folk Blues and Beyond…
Topic
Davy Graham and Shirley Collins
Folk Roots, New Routes
Topic
Davey Graham
The Complete Guitarist
Kicking Mule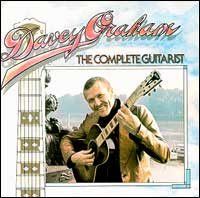 The 1960's saw a blossoming of guitarists who were hell bent not to get trapped in anyone's pigeonhole. They liked jazz and blues, the knew their own folk music and they dabbled in the eastern arts with all its sitar and tabla trappings. Their open-minded attitude may have kept them from the mainstream fame of the ardent blues preachers like Mayall and Clapton, but their influence has been felt throughout the world's popular music.
Davy Graham is constantly mentioned as mentor or influence by a myriad group of players; Martin Carthy, Bert Jansch and John Renbourn all sing his praises still. Paul Simon and Bob Dylan should have mentioned his name more often. Graham was one of the most influential and (with the possible exception of Sandy Bull) most enigmatic of these musicians. He could deliver a Child ballad or London broadside absolutely straight one moment, or skew it into something only he could recognize as traditional the next. These three recordings give the best look at the finger picking life of Davy Graham one could ask for.
Graham made a number of albums for Decca in the mid-60s. Folk Routes, New Routes brought him together with the British folk diva and musicologist Shirley Collins. Collins had accompanied Alan Lomax on number of his southern journeys through rural America and was an infamous collector and interpreter of American folk songs. But here she returns to British roots. Together they dissembled chestnuts of the English song book like "Nottamun Town" and "Lord Gregory," re-Anglicized American folk tunes, and gave Graham's new found interest in the music of North Africa free reign in their austere and quasi-Algerian delivery of "Pretty Saro." A ragtime, fingerpicked guitar solo of "Blue Monk" or a rolling stride guitar impersonation of jazz pianist Bobby Timmons' "Grooveyard?" You almost came to expect it from Graham.
Folk Blues and Beyond… is perhaps one of his greatest albums. "Leavin' Blues," with its moaning, droning Anglo-Indian intro breaks into a rumbling rhythm and blues romp, its driving guitar backed by the sparest of bass and drums that allowed him to go from pressurized power chords to sudden stops and jerky finger-picked solos. He pays tribute to the 1950s folk-scare with Gary Davis' "Cocaine Blues" by playing it practically straight out of the ragtime fake book. And if you think "world fusion" and "nueva flamenco" are creations of the 90s, listen to "Maajun." Arabic-flamenco guitar is rawly plucked, the sparse percussion foresees the worldly future of jazz and the spacey reverbed vocal scats are pre-psychedelic. At home with modern jazz, ancient ballads and pop clusters like Bob Dylan's "Don't Think Twice," Graham created a masterpiece of personality.
The Complete Guitarist offers the broadest look at Graham's work. These "late" recordings, from 1977-80, feature his shimmering, droning guitar work on now classic tracks like "Lord Inchiquin" and "A Mighty Fortress Is Our God." This album more than any of the others here offers a look at his incredible finger picking style, one part Gary Davis and Snooks Eaglin and three parts Renaissance revival, full of unexpected turnarounds. Bass strings played the melody against rippling rhythms on the high strings. The box was a drum, a harp, a tuba all in one. He played Irish fiddle tunes, classical guitar pieces, deep blues and jazz breakdowns in a unique, personal style. This CD reissue also offers 8 bonus tracks from Dance for Two People and Blues Guitar Workshop. - Cliff Furnald
More on Davy Graham
Comment on this music or the web site.
Write a Letter to the Editor