Danílo Perez
Motherland
Verve (vervemusicgroup.com)

Appointed Cultural Ambassador of Panama by President Mireya Moscoso, pianist and composer Danílo Perez finds inspiration in the multicultural land of his birth. A New England Conservatory faculty member with several influential recordings to his credit, Perez is among an emergent generation of New World jazz pianists and composers. Motherland, recently nominated for a Grammy, pays homage to the Creole soul of the Americas, exploring the cultural hybridization process set into motion by the complex and difficult encounter between African, Amerindian and European peoples over the past half millennium. Perez's musical vision freely melds Iberian strains, the rhythmic and lyrical intricacy of Latin American folk dances, and sacred Yoruba percussive traditions carried from West Africa to the New World.
"Suite for the Americas, Part 1" lays out a loping acoustic bass figure by Carlos Henriquez, underpinning the polyphonic weave of Luciana Souza's soaring wordless vocals, with Chris Potter (soprano sax) and Regina Carter (violin) in the upper register, and Perez (piano and Fender Rhodes) in the mid range, against the resolute pulse of drummer Antonio Sanchez, and the Afro-Latin percussion of Luisito Quintero and Ricaurte Villareal. This is a flamenco-tinged work whose cante jondo ardor recalls Spanish jazz piano virtuoso Chano Dominguez. "Elegant Dance" builds on the punto, a Panamanian folk dance whose coquettish figure evokes the Cuban guaguancó, a rumba genre and courting dance that enacts the charged bodily aura of a stylized sexual flirtation. Carter's violin (plucked and bowed) and Aquilez Baez's cuatro set up a piercing tango-like counterpoint to the acoustic piano and Souza's vocals, riding on the pulse of John Patitucci (acoustic bass), Brian Blade (drums), and the roots percussion of Quintero and Villareal.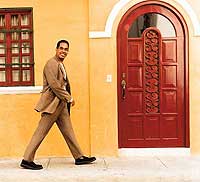 "Panafrica" conjures up a sultry, bossa-samba interplay between Ricardo Bona (lead vocals and finger-popping electric bass) and backing singers Souza and Claudia Acuña, anchored in a funky batucada salute to the neo-African swing of New World sounds. "Baile," a stately solo piano piece reminiscent of the Cuban danzón and its European predecessors, builds upon a reflective atravesado, another Panamanian folk dance rhythm. Claudia Acuña's spoken preface and crystalline soprano on "Song of the Land" infuse Perez's poetic anthem with the calor of the Panamanian motherland. The tune's Chilean tonada rhythm folds into an insistent figure of a Cuban batá drumming and ritual chanting ensemble invoking the Yoruba deity Ochun.
"Suite for the Americas, Part 2" returns to the opening theme, allowing Perez to stretch out on piano and Fender Rhodes before giving way to successive erudite leads by Potter, Souza and Carter. "Rio to Panama" melds the rhythms of Panama's tamborito and northeast Brazil's baiao with Perez's percussive keyboard attack and Souza's kindred vocal essay. "Panama Libre" reflects on the senseless devastation unleashed by the Bush administration's 1989 invasion, featuring Kurt Rosenwinkel's lyrical electric guitar, while "Panama 2000" is a restrained composition marking the trans-isthmian canal's return to Panamanian sovereignty. Its melding of Afro-Latin percussion with the jazz-like figures of the keyboard, Diego Urcola's muted trumpet, Potter's howling sax and Carter's incisive violin salute the nation's hemispheric roots and its transcultural destiny.
In an ambitious, studio-crafted Pan-American cultural vision, Perez is much inspired by the fiery reach and terrifying musicality of the dean of Afro-Caribbean piano and composition, Chucho Valdés. Perez-along with Californian Rebeca Mauleón, Martinican Mario Canonge and Cubans Hilario Durán, Gonzalo Rubalcaba and Omar Sosa-represents an emergent cohort of kindred New World musical spirits whose acute keyboard sensibilities project the affirmative, culturally omnivorous energy and vision of world jazz to come. - Michael Stone
Audio sample: "Suite for the Americas Pt 2" (on the record label web site)
Comment on this music or the web site.
Write a Letter to the Editor