Fans of Cuban jazz may think first of pianist, composer and producer Chucho Valdés, who presides over the Havana Jazz Festival and the steady flow of North American jazz artists to the island. Those who've traveled to woodshed, network and sometimes record in Cuba include Jane Bunnett, George Benson, Terence Blanchard, Steve Coleman, Roy Hargrove, Antonio Hart, David Murray, Nicholas Payton and Wynton Marsalis, among others.

A positive legacy of the Soviet era is the integrated national system of music, dance and arts conservatories to which the 1959 revolution gave rise. The system offers superb training to aspiring performing artists from primary school onward. Musicians study western classical, jazz and Cuban folk idioms interchangeably, which explains in large part the abundant creativity of contemporary Cuban music. The best students eventually land at the Instituto Superior de las Artes (ISA) in Miramar, Havana, the springboard to bigger things. Most musical visitors find their way to ISA, intent upon checking out the scene and connecting with session musicians to invest their work with something unique.

In some ways, the music training system has performed too well, producing a surfeit of immensely talented musicians with limited outlet for their artistry. In spring 2004, local players welcomed the opening of the Irakere Jazz Club and the reopening of the Club Barbaram, in hopes that this would translate into more regular work. In particular, Irakere's afternoon sessions have been dedicated to presenting Cuba's countless gifted jazz artists, many nearly unknown off the island.

Jazz guitar virtuoso, keyboardist and composer Peruchín Jr. is the son of Pedro A. Jústiz "Peruchín," one of the piano greats of the descarga ("jam session") era of the 1950s. Peruchín Jr. presents a sparkling exploration of the improvisatory form, backed by some of Cuba's premier session players. Peruchín Jr. came up with the renowned Orquesta Revé, and the orchestras of El Teatro Musical de La Habana, El Instituto Cubano de Radio y Televisión, and the Cabaret Tropicana. He founded the Festival Internacional Jazz Plaza de La Habana, has toured widely in Latin America, Canada and Europe, and has had a regular Thursday-to-Saturday slot at one of the premier jazz venues, La Zorra y El Cuervo. The night I heard him he presented an unassuming but astonishing solo keyboard performance for an intimate and appreciative audience.
Peruchin, César Ivan Pavón Martínez, Andy Daniel Justiz

On Descarga Dos, Peruchín Jr.'s aptly named All Stars include Guillermo Pompa (tres), Hilario Durán (piano), Cachaito (bass), Amadito Valdés (timbal), Changuito (bongos), and Enrique Lazaga (güiro, maracas), plus two veterans who played with Peruchín Sr., flautist Richard Egües and conga king Tata Güines. Originally released by EGREM in 1996, Descarga Dos reveals Peruchín Jr. as an inventive exponent of traditional forms including the guaracha ("Capullito de Aleli"), son (the Miguel Matamoros chestnut "Son de la loma" and the classic "Bilongo"), bolero ("Como fué"), filin ("Delirio," "Decídete"), and his own blues-, funk- and jazz-tinged compositions.

Of the latter, "Palermo Club" opens the album with a sizzling essay on the son, with the tasteful, fluid jazz guitar lines that are Peruchín Jr's trademark. "Fantasia triste," an acoustic guitar solo, injects a refreshing classical strain, signifying the Iberian roots of Cuban guitar style, while "El gordito" lays down a finger-popping groove to the envy of any guitarist. "Descargando" closes the album with the leader's extemporized spoken salute to the musicians, and a darkly evocative son descarga, wherein the resonant density of Peruchín's amplified hollow-body guitar, Egües's quivering, soaring flute, and Pompa's ringing tres summon up the transcendent spirit of Arsenio Rodríguez.

Peruchin Jr's. Malanga Amarilla (2001) features a 12-person lineup with the leader on guitars, focusing primarily on the son and guajira forms. Dad's "Guajira melodica" gets suave treatment and a subtle electric guitar solo. Other classics include an elegant, laid-back rendition of Sindo Garay's "Retorna", Eduardo Saborít's familiar "Mi linda guajira," and the album-closing Gershwin standard "Summertime," with guests Bobby Carcassés (scatting and singing in English) and Mario "El Indio" Hernández on trumpet.

La Zorra is a place where a casual conversation with the performers is easily initiated, and where collectors will always find new recordings for sale. The club hosts the "Women in Jazz" series, organized by musician, sisnger, bandleader and teacher Lilia Expósito Pino "Bellita." Featured talents have included Damarys Bautista y La Banda Esperanza, Tamara Castañeda y Su Grupo, Elizabeth Corrales, Jesús Fuentes y Las Canelas, Glenda López, Alejandrina Reina, Vocal Catarsis, Vocal Sexteto Sentido, Neysi Wilson y Gala Mayor, Marialys Pacheco y Su Grupo, and Bellita's own Jazz Tumbatá.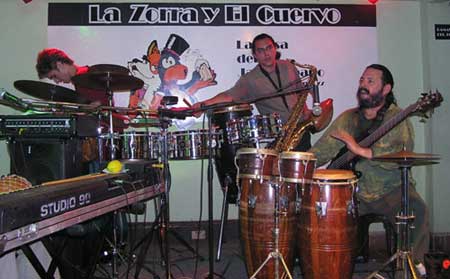 Jazz Tumbatá at La Zorra
Bellita (vocals, piano, keyboards, bongos, hand percussion) is an ISA grad and music teacher from Pinar del Río who has toured with Pancho Quinto (New York, Canada, Trinidad and Germany). She studied piano at the Amadeo Roldán National Conservatory in Havana, and finished her training at ISA. She previously played keyboards for such groups as Mezcla, Manguaré and Zarabanda, and has taught solfege, harmony and polyphony in Havana for more than a decade.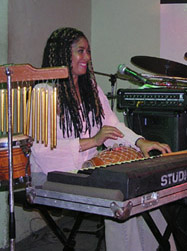 Bellita

Jazz Tumbatá is rounded out by Miguel Miranda López (Bellita's husband, on guitar, electric bass, congas, percussion), Mauricio Gutiérrez Upmann (timbales, percussion), and Iván Morejón (flute, sax, hand percussion). They have played the Havana Jazz Festival on several occasions, the Dominican Republic Jazz Festival, the Standard Bank Joy of Jazz Festival in Johannesburg, South Africa, along with appearances in Germany, Venezuela, and Trinidad and Tobago.

The group is remarkably tight, percussively dense, and well-attuned to each other's styles, playing with an intense improvisatory freedom. Bellita possesses a tremendous stage presence and performs (her mostly original compositions) with infectious joy ("what I love most of all is to play," she says). She sings and plays the keyboards and hand percussion simultaneously, while directing the group via seeming telepathy. Miranda (self-taught on drums, percussion, guitar, piano and bass) performs with electric bass slung over his shoulder, playing it percussively with his left hand while marking out a rapid, complex counter rhythm with his right hand on the congas and other percussion. Gutiérrez is coolly sharp and precise on timbales and percussion, while Morejón's fluidity and ability to surprise on woodwinds and hand percussion bear close listening. This is an astounding ensemble looking for a bigger audience.

Another La Zorra showstopper is trumpeter Alexander Brown Cabrera, winner of the coveted Cuban Jo-Jazz or Jovenes de Jazz ("young jazz" artists) prize in 2002. "El Brown," as he's known, was born in Camagüey where, growing up, he rubbed shoulders with the young Omar Sosa; one of his cousins is saxophonist Yosvany Terry, now based in New York. Brown's grandparents joined the wave of Jamaican emigrants who went to Cuba in the early 20th century. His grandmother, age eight when she arrived in Cuba, never learned Spanish, but worked all her life as a cook in Camagüey's Jamaican community. Brown's father was a big Afro-Cuban percussion fan, and supported his son's musical aspirations by enrolling him at the Escuela Nacional de Artes (ENA). "He's very proud today," Brown relates.

Now based in Centro Habana, since 1998 "El Brown" has taught trumpet at ISA, where he finished his own studies upon graduating from ENA. Brown's wife, Lennys Rafols Velázquez, a native of Las Tunas, is also a trumpeter, and a member of the renowned female ensemble Anacaona. Brown remarks that apart from formal training, he and his musician friends learned popular and off-island musical forms "in the street" and via foreign recordings. He learned trumpet from LPs by Woody Shaw, Freddy Hubbard, Clifford Brown, Miles, Lee Morgan and Fats Navarro. His first acquisition was Cookin' with Miles; when he moved to Havana someone told him, "You play like Miles," and gave Brown a copy of Kind of Blue. (If you're going to Havana, he'd appreciate anything by Louis Armstrong, Woody Shaw, Clifford Brown, Freddy Hubbard, Wynton Marsalis, Nicholas Payton or the Dirty Dozen Brass Band.)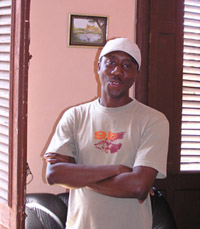 Alexander Brown Cabrera

Brown has performed abroad with flautist Orlando "Maraca" Valle in Los Angeles, Oakland, New York and Miami. Announcement of their 1998 show at Miami's Amnesia nightclub resulted in a right-wing Cuban exile bomb threat, but, Brown observes, smiling, "The audience loved our performance." Cuban music and exile politics are a volatile mix in Miami. Amnesia was also firebombed that year prior to an appearance by Cuban singer Manolín "El Médico de la Salsa"—"the salsa doctor" (ironically, Manolín now lives in Miami), while nonagenarian Compay Segundo's show at the MIDEM music conference abruptly ended with a bomb threat that emptied the concert hall. In 1999, a Los Van Van concert provoked violent protest outside the Miami Arena, ending with 11 arrests.

Brown's quartet also includes Axel Tosca Laugart (piano), Omar González (bass) and Ramses Díaz Baral (drums). One evening at La Zorra, Brown's first set comprised four original compositions, "Oxidaciones," "Woody and Freddy" (his Shaw-Hubbard tribute), "Carnaval de Brasil" (a samba), and "Presencia," an evocative ballad. The second set included a Clifford Brown-inspired blues theme, "Guajira en cha-cha-cha," and "Evidence," another original piece. "El Brown" plays with profound concentration and executes rapid, punctuated and exceedingly precise and lyrical phrases that open new sonic territory with every new rendition.

Brown also has worked with pianist Hernan López Nussa and U.S. jazz artists Steve Coleman, Roy Hargrove, Antonio Hart, Nicholas Payton and David Murray (touring Europe with the latter in 2002-2003). Brown and Hart met at ISA when Hart came to study Spanish; Peyton also did a clinic at ISA. When Murray came to Cuba to record, he contracted Brown on a friend's recommendation; Brown can be heard on Murray's Now Is Another Time (Justin Time, 2003), among some 40-odd players who comprised the Murray Big Band for this session, recorded at Havana's EGREM studios. Brown also appears on A Puerto Padre, a Latin jazz studio session led by Juan Manuel Ceruto (flute, tenor sax), with Chucho Valdés, Tata Güines, trombonist Juan Pablo Torres, trumpeter Julio Padrón and Ernán López-Nussa. Brown (who has yet to record as a leader) takes the trumpet solo on "Jazz Plaza," a blistering descarga.

For a broader sense of Brown's talents, hear crack pianist López-Nussa's Habana Report, with a heavy rhythm section comprising bassist Jorge Alexander "Sagua," Pancho Terry (percussion, vocals), Changuito (drums, timbales), and the ubiquitous congüero Tata Güines. The repertoire comprises López-Nussa originals inspired by cha-cha-cha ("Amén," with guest flautist Joaquin Oliveros), Coltrane-Tyner jazz ("Esto no tiene nombre" and "Tierra mía," with guest Julio Padrón on trumpet), blues ("Wendy's Blues" and a pulsing "Blues de Marieta," where Brown shines), a morphing jazz waltz piano solo ("Archipiélago") that recalls Keith Jarrett at his most lyrical, and standards such as "Bye Bye Blackbird" in 6/8 time (shades of Miles, with an Afro-Cuban chorus led by Terry), a smoky, late-night take on the Chano Pozo-Dizzy Gillespie mambo "Tin Tin Deo," and Weill-Brecht done Latin-lounge style with "Mack the Knife," where Brown channels Armstrong while guest Clarinete invokes the spirit of Sydney Bechet on clarinet.

By the time Marialys Pacheco (b. 1983) entered Havana College of Music at age 15 she was already schooled in European classical piano, harmony, theory, composition and music history. Only then did she come to traditional Cuban music and jazz embodied in the work of such as Oscar Peterson and Keith Jarrett, the latter knowledge transmitted primarily via rare videos and recordings of U.S. jazz artists. Like Bellita, Pacheco was pianist for the Latin jazz group Mezcla, and is a regular at La Zorra (she also continues to compose classically for solo piano, horn and string quartets, and for symphonic orchestra).

After Chucho Valdés chose her as the first female Jo-Jazz winner in 2002, Pacheco made her first recording, produced by Ibrahim Ferrer's pianist Roberto Fonseca. She also accompanies the noted Cuban choir VocaLeo, directed by her mother; the 2004 Choir Olympics in Bremen resulted in meeting double-bassist David Jehn and drummer Eddie Filipp, producing a return trip in February 2005 to record Bendiciones. The repertoire includes six Pacheco originals and the Cuban classics "El bodeguero," "A puerto padre," "Veinte años" and "Tres palabras." This is a fine Latin jazz trio outing from a very promising young pianist and composer, and (one small complaint) it would be even better without the lackluster guest vocals that seem tacked onto the latter two songs.

One of the most flourishing and prolific Cuban musicians abroad continues to be pianist and composer Omar Sosa, whose musical imagination and ecumenical cultural outlook know no frontier. Live à FIP was logged at Radio France, Paris in May 2005. The quintet heard here includes Cuban Luis Depestre (saxes, hand percussion), Mozambique's Childo Tomas (bass, m'bira, vocals), (the late) Miguel "Angá" Díaz (Cuba, percussion, on one of his last recordings), and drummer-producer Steve Argüelles (UK, but based in Paris). The compositions are all Sosa originals, several from his brilliant 2004 studio outing, Mulatos (Ota; produced by Argüelles), but completely reworked and renewed in the live quintet setting. This recording reflects Sosa's deep spirituality, and the sheer joy manifest in his live performances, the next best thing to beholding the man and his music in person.

At a fall 2006 appearance at New York's SOBs in a trio setting that included the amazing Thomas, Sosa related that the touring and recording takes him away from his family in Barcelona far too much, and that he has precious little time to reflect and compose. What might he be capable of producing if he could come in from the road for awhile? Sosa has recently been selected as a visiting artist for 2007-08 by Princeton University's Council of the Humanities, a long way from his Camagüey origins. Perhaps this kind of recognition represents a precursor to the kind of touring respite he's seeking, to follow in the footsteps of jazz greats who've found a creative haven in the academy. Whatever the case, Sosa remains among the most musically illuminated artists and composers on the world-jazz stage today. - Michael Stone

All photos by Michael Stone
Havana Jazz Venues
Club Barbaram
Avenida 26 y Zoológico, Nuevo Vedado
Irakere Jazz Club
Calle O #314, Miramar
Jazz Café
Galerías Paseo (near the Meliá Cohíba and Habana Riviera Hotels), Vedado
La Zorra y El Cuervo
Calle 23 no.155, between N & O, Vedado
---
Some Recordings
Peruchín Jr. and the Cuban All Stars
Descarga Dos
Lusafrica
Peruchín Jr.
Malanga Amarilla
EGREM
Bellita y Jazz Tumbatá
Tonga (1997), President (1999)
Juan Manuel Ceruto
A Puerto Padre: Tributo a Emiliano Salvador
Unicornio UN-CD9009
www.abdala.cu
Ernán López-Nussa
Habana Report
Unicornio UN-CD9018
www.abdala.cu
Marialy Pacheco Trio
Bendiciones
Weltwunder LC 06027
weltwunder.com
Omar Sosa
Live à FIP
Otá Records 1017
www.melodia.com
Some CDs available from cdRoots or cdroots