Dreamers' Circus
Second Movement
GO' Danish Folk Music (www.gofolk.dk)
Ale Carr, Rune Tonsgaard Sørensen, and Nikolaj Busk, known collectively as Dreamers' Circus, create a folk music all their own. And yet, to call them unique is to do them a strange disservice because, in their self-fashioned world, the sounds of Dreamers' Circus are everywhere. The trio started when its musicians connected during a jam session in Copenhagen, by the end of which their future was sealed.
"We had to follow this sound," says Carr in an e-mail interview. "From there on, we were the servants of our music. This was a context were anything could happen. Someone had an idea, and it magically found the exact right place in the music, just like a dream. We could make dangerous musical acrobatics without fear, as we knew there would always be someone to catch you. Dreamers' Circus seemed like a great description about what it feels like to play this music together, as it symbolizes adventure, wonder, ambition, youth, magic, and many other things."
No music is free from inspiration, and indeed these dreamers dock their vessels at familiar stations across continents—from Scandinavian folk music and English pop channels, through American minimalist oceans, onward to Indian classical inlets and beyond, sails buffeted by an inexhaustible curiosity. To these ears, even more specific points of reference make their way into the mix. Shades of Yann Tiersen, the KROKE band, Gustavo Santaolalla, and Irish jigs all leave their marks across the map.
The influences are as eclectic as the band's instrumentation, which embraces a variety of fiddles, guitars, keyboards, and percussion. Aside from a gloriously realized arrangement of Bach's famous "Preludio" (from the Violin Partita No. 3), replete with jam session aesthetic and invigorating turns of phrase, the album consists of original material, composed variously within the group. The watchword here is "expansive," for the trio crafts remarkably open vistas from humble means, as evidenced not only in their composing but also arranging skills. The scrape of clog fiddle that welcomes us into "Folkrotsvalsen," for example, betrays nothing of the depths soon to unspool from it, as a soft-focus drone paints the background into pasture, giving way to fantastic, dancing rhythms.
| | |
| --- | --- |
| | Folkrotsvalsen |
| | First Impression |
From this opener alone, it's clear that each musician has an equal role, a dynamic the band both consciously cultivates and naturally possesses. "Dreamers' Circus is a modern democracy," Sørensen agrees. "We have no real bandleader, and everybody contributes both off and on the stage. When we perform, we probably have a mindset closer to a professional chamber music group than a typical folk music group. By that I mean we try to make the three instruments melt into one united sound. We respect and trust each other deeply, both musically and personally, and that gives us a strong confidence, both as individuals and as a group." Such unity is clearest at their most uplifting. The unforgettable melody of "A Room in Paris," for one, sings from the accordion's bellows, while acoustic guitar and violin balance drive and lyricism. "The Ballad of Solitude Street," for another, builds its drama with theatrical finesse through its textured pianism and fiddling.
| | |
| --- | --- |
| | A Room in Paris |
It's difficult not to appreciate the level of detail put into these songs, which draw as much from personal experiences as grander narratives. The cinematic propulsions of "Sofastykket" arose out of a relaxation session over red wine in a country cabin, while the flowing night music of "August" was named for Busk's nephew and ends with a graceful stroke in a major key. On that last front, melancholies are few and far between. Whether in the delicate smithery of "Nine Moons" or the brightness of "Farther Into It," optimism abounds. A clean yet tactile consistency pulls the listener wherever it wants to go, and nowhere more so than on "Fragments of Solbyn." This 11-minute juggernaut of an ending combines all of the band's finest qualities into a modern mythology. Accordion and violin take center stage at first, but give way to fuller energies as the band epitomizes its simpatico approach in the final hurrah.
| | |
| --- | --- |
| | Sofastykket |
Carr explains the story behind this song: "First of all, Solbyn (Sun Village) is the name of the small village where I live with my wife and three children. The title refers to the busy life of a person who is both a parent and a touring musician. It's like living two very different lives. At home, the concert hall seems very distant, as does family life when you're on the road. But sometimes, you are struck by the idea that you actually have a family, and you remember all sorts of things from home. You remember the good things, the bad things, big things, small aspects and details—all sorts of fragments. So for me, this suite is about traveling, experiencing things, thinking about aspects of your home, and ultimately coming home again." Likewise, this album is sure to feel like a homecoming the more you hear it. It goes with the flow, a traveling companion of utmost patience and complacency.
Despite its innovations, I hesitate to call this the cutting edge of Danish folk, if only because the band is so well rounded. It doesn't cut but heals, welcoming listeners into the same oneness enjoyed by the band on stage. For the Scandinavian folk enthusiast Second Movement is a must have, and for the greenhorn the first of many detours, one hopes, in a fruitful new direction. - Tyran Grillo
Find the ensemble online at www.dreamerscircus.com.
Hear a different version of "Fragments of Solbyn" performed by Ale Carr with The Secret North.
This CD is available from cdRoots.
© 2015 RootsWorld. No reproduction of any part of this page or its associated files is permitted without express written permission.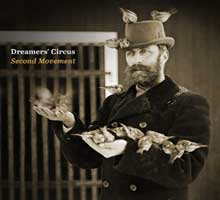 CD available from cdRoots