Chicha Libre
Canibalismo
Barbes Records ( www.barbesrecords.com)
French-born New Yorker Olivier Conan loves his chicha, that no-longer-obscure Peruvian style combining Colombian cumbia rhythms with echoey surf guitars, psychedelic keyboards, Andean airs and an anti-establishment looseness that prompted the music to be looked upon with disdain by Peruís upper classes when it first emerged in the late 1960s. Not only has Conan compiled and released collections of vintage chicha music by its originators on his own Barbes label, heís also the cuatro player, vocalist and leader of Chicha Libre, a band of non-Peruvians who play chicha thatís no less authentic for the fact that itís their own compositions. So the music, recorded on exquisitely obsolete equipment, has those galloping rhythms, precise percussion fills, faintly spooky walls of sound created by synthesizers and guitars (whether soloing or supporting), vocals that come and go like restless spirits and the feel of a past musical era.
But this is 2012, and Conanís crew is looking to make chicha thatís relevant today. They do so by means of, as the title of their latest album suggests, a little musical cannibalizing. Thus, an analysis of the stomach contents of this band would reveal their having chowed down on helpings of Afro-Cuban rhythms, Latin funk, Jamaican dub, Wagnerís flying Valkyries and a clear knowledge of how not to cross the line from trippy to campy. If youíre already a fan of the chicha the Barbes label has helped re-introduce, youíll eat Canibalismo up. If not, feel free to start with either Conanís compilations of the classic stuff or what he and his similarly passionate band (this being their second release) are doing to keep chicha current. Itís all very, very good. - Tom Orr
Visit the Chicha Libre web site: www.chichalibre.com
CD available from cdRoots
© 2012 RootsWorld. No reproduction of any part of this page or its associated files is permitted without express written permission.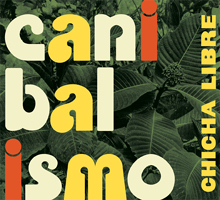 "Listen!"
RootsWorld depends on your support.
Contribute in any amount
and get our weekly e-newsletter.
<!!! script type="text/javascript"> <!!!! script type="text/javascript" src="http://pagead2.googlesyndication.com/pagead/show_ads.js">
Thanks for your
support
of RootsWorld