Three from Brazil
Da Lata
Songs From The Tin
(Palm Pictures)
Rita Ribeiro
Pérolas Aos Povos
Putumayo (www.Putumayo.com)
Rosa Passos
The Best Of Rosa Passos
Velas (www.Velas.com)
Heaven help the Brazilians. They're hot. The world's trendsetters have fallen hard for things Brazilian. They've made a supermodel of the teen-aged Gisele and they predict a wave of new Brazilian models (who must still be in the womb).
As Brazil marks its 500th anniversary, its fashion, food and caipirinhas are hip. And there's been an international outbreak of electronica that borrows heavily from the subdued sultriness of bossa nova. It may be sacrilege, but one group that gets the formula most right is the UK-based Da Lata, the creation of English deejay Patrick Forge and multi-instrumentalist Chris Franck.
Initially a studio entity, Da Lata includes Brazilian singer Liliana Chachian and percussionist Oli Albergaria Savill of Portugal. Pedigrees aside, the band has a wonderful sense of melody, creating music that could be from the bossa canon, particularly since Chachian's supple, sexy voice is reminiscent of Astrud Gilberto's understated vocals.
Bossa can be described as the son of samba that went off to university, but the distinction between the two can be hazy. While Da Lata has bossa's late-night feel, it is more accurately 21st-century samba, overlaying samba's polyrhythmic playfulness with a dreamy, electronic-tinged sound.
But samba is not the beginning and end of Brazilian music. In recent years, regional styles have lost their stigma as hick music and have inserted themselves into Brazil's constantly cutting edge.

Rita Ribeiro lives in the most Manhattan-like of Brazilian cities, São Paulo, but she's originally from the rural state of Maranhão, and shows the influences of both. With a fluid alto and a sweet but efficient approach to pop songmaking, Ribeiro creates music that's simultaneously familiar and exotic. Lilting reggae tunes are included in her Putumayo compilation, but rock and funk amp up her takes on traditional styles such as frevo and forró from Brazil's northeast.
On one tune, Ribeiro sounds straight out of Nashville, which should not be surprising given the popularity of serteneja, Brazil's country music. She even tosses in some turntable scratching on an old tune about a banana vendor. Ribeiro's horn section goes from funk-band hard to street-party silly in a flash, leading her band through well-choreographed arrangements.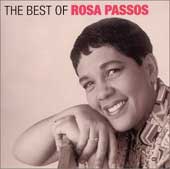 One of Brazil's often-overlooked performers is Rosa Passos, a leading upholder of the bossa nova movement. Like all great bossa, Passos' music is fleecy soft, but still manages to grabs you hard with its ineluctable swing. It's no insult to call this wonderful background music since it is so gentle, but its beauty also stands up to closer attention.
Though called a 'greatest hits' album, this actually collects songs from her Velas releases and from a few tribute albums. Still, this is a perfect introduction to Passos, who is worshipped by bossaheads the world around.
One reason Passos is not a bigger name in Brazil is that bossa itself is widely seen as passé; respected, but not considered hip. Ironically, the popularity of bossa with foreign performers, like Da Lata, may revive bossa's standing back home. If so, Passos deserves to be among the first who benefit. - Marty Lipp
Available at cdroots.com:
Rosa Passos
Comment on this music or the web site.
Write a Letter to the Editor