Anouar Brahem Trio
Astrakan Café
ECM (www.ecmrecords.com)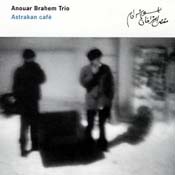 The Tunisian oud luminary rejoins fellow countryman hand drummer Lassad Hosni and Turkish clarinetist Barbaros Erkose for his sixth ECM release and again delivers an unclassifiable oriental music of incomparable civility. Brahem is a rare lutenist, a combination of awesome agility, global imagination and ineffable taste, while also a trafficker in and around multiple idioms: improvisation, principled classicism and erudite ethnicity.
Brahem arranges solo and duet spots within the trio format for his mostly original pieces. This move makes the music consistently intimate and crucially direct. Unusual for a classically trained talent from an Arabic tradition is his fearless alliance with silence. The group does not overwhelm with their considerable technique either singly or jointly, but routinely measure off just the right amount of momentary dazzle.
Though the set is illustrious in its variety, connoting a post card swap at a Greater Mediterranean way station with travel tales from Azarbeidjan, Turkmenistan, Turkhestan, Tanzanie and other destinations, Astrakan Café captures an austere and even cumbrous beauty tinged with an inescapable Gypsy yearning. The talent players exhibit is of the first magnitude: immaculate tone, the touch of a poet, and a faculty for invention. The recording sessions at the Monastery of St. Gerold in Austria grant the music a widescreen aura. At once satisfyingly evocative of faraway places (minus the airfare) and soothingly, warmly human, this is a vision of the musical arts as gracious vacation and world citizen blues. - Steve Taylor