Take the F Train

Marty Lipp visits Barbés in Brooklyn

In a city of immigrants, roots music can look as multifarious as the faces on an F train out of Brooklyn. Just off the F train, a block from the Seventh Avenue stop in Park Slope, the vest-pocket club Barbés plays roots music from around the world with an American twist; the performers tinker with tradition, making it distinctly their own.
The club, founded four years ago by French musicians Olivier Conan and Vincent Douglas, presents two shows a night of varied music in a back room the size of a good-sized living room. With its tin ceilings, dark-wood bar and narrow front barroom, Barbés has an old-time neighborhood feel, complementing the acoustic music it showcases. Conan said he's happy with the small space, but has now launched a record label to bring some of the bands that regularly play there to a larger audience.

Mark Moran, of Slavic Soul Party, said Barbés "feels small and intimate, but worldly and diverse at the same time. It's very comfortable, but it's a serious listening room."

Slavic Soul Party has been a Tuesday night fixture at Barbés, 110 weeks and still counting. On one recent Tuesday, the band slowly coalesced under a vintage "Hotel D'Orsay" sign where the stage would be, if there were a stage. The members chatted and did several rehearsal-style starts on a new tune. Eventually, without fanfare, or even being introduced, they started to play for the congenial party. In short order, the group was swinging hard, albeit it to the complex time signatures of Balkan music.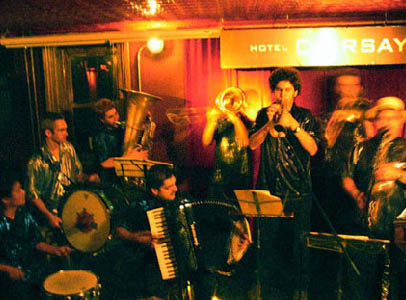 The weekly gig, Moran said, gives the band a place to relax and experiment, to recharge its batteries. He describes the band as Balkan-influenced, but not an attempt to be traditional. Rejecting the label of "world music," Moran said, "we're creating very local music," using New York musicians who are influenced by the myriad sounds around them, whether it's New Orleans jazz or Mexican banda.
On their Barbés album Bigger, the nine-member group mostly limns the big, fast sound of Balkan brass bands, but plays either original compositions or their own arrangements of traditional tunes. On occasion, the players' jazz chops come to the fore, ending the album with a funky tune by The Meters.
Similarly, the group Hazmat Modine (featured in a May 2006 RW interview) is another Barbés regular that takes a borderless approach to regional music. To mark the release of Hazmat Modine's wonderful debut, Bahamut (seven years after the band formed), Barbés is "going to the city," and had a launch party at S.O.B.s in Manhattan on September 24th, 2006 including Slavic Soul Party, Hazmat Modine and Las Rubias del Norte, a group that plays retro Latin styles, but is fronted by two classically trained singers.
Conan, who plays the guitar-like cuatro with Las Rubias, knows firsthand the rough life of a musician, so his club and label is there to give a home to dedicated players and, he says, "[to] at least treat them well," by giving them a platform to reach open-minded audiences.
Speaking about the club, Slavic Soul Party's Moran said, "You don't know what's going to be there, but you know it's going to be good."
Visit Barbés
See the Hazmat Modine interview in RootsWorld
© 2006 RootsWorld. No reproduction of any part of this page or its associated files is permitted without express written permission.