Baka Beyond
After the Tempest
March Hare Music (www.bakabeyond.net)
Baka Beyond has taken their fair share of critical drubbing over the course of 21 years. Some find the band's Afro-Celtic fusions to be too lightweight, too contrived, too it's-been-done-better, too whatever. As for me, I was a fan at the start and still am. The title track from Baka Beyond's 1993 debut album Spirit of the Forest remains one of my all-time favorite pieces of music, and I like the way their sound has developed as they've become less of a project and more of a true musical collective. Plus, it's hard to argue with the good works they've done via Global Music Exchange, the charity they started to assist the forest-dwelling Cameroonian Baka people who continue to inspire founding members Martin Cradick (guitar) and Su Hart (vocals).
Among the group's many undertakings was providing live music for a Welsh staging of Shakespeare's "The Tempest," and their latest album, After the Tempest, includes two songs used in the production: "Ariel's Song" features the familiarly soothing vocal ululations of the Baka forest folk coursing throughout an irresistible serpentine rhythm, while "Full Fathom Five" evokes the shipwreck that puts Shakespeare's play into dramatic/comedic motion. But this is not specifically a soundtrack album, and those who love the signature Baka Beyond sound will not be disappointed. As usual, the Celtic side of the equation lies mainly in the vocals and melodies, and the underlying grooves (powered by longtime percussionist Ayodele Scott and newer set drummer Clyde Kramer) put the African zest into it. Particularly good is "Seothin Seo Lo," a borderline eerie Gaelic lullaby featuring Cradick's electric riffs bouncing off a steely wall of bass, percussion, hang drum, violin (played by Paddy Le Mercier, showing his usual expert touch) and Hart's otherworldly voice, but there's much else to enjoy.
The connection between reggae and Baka yelli rhythm is solidified with "Heart of the Night," returning vocalist Ellie Jamison shines alongside Hart on "Nangating," and "Malala" sweetly celebrates the "peaceful revolution" of the Muslim girl who was shot by Taliban goons for the supposedly heinous crime of wanting an education for herself and her peers. Even though After the Tempest doesn't go significantly beyond anything Baka Beyond has done previously, it's a delight. - Tom Orr
CD available from cdRoots
© 2014 RootsWorld. No reproduction of any part of this page or its associated files is permitted without express written permission.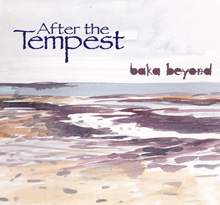 CD available from cdRoots