Andy Irvine with Rens van der Zalm
Parachilna
Self-released (www.AndyIrvine.com)
First, a bit of geography and history; it's important for this disc. Ireland's Irvine met van der Zalm (from Holland) way back in 1968 in Eastern Europe, when Irvine was studying Balkan music. Decades later, in 1991, Irvine asked van der Zalm to play on his Rude Awakening album, then a year after that, on East Wind, a set of Bulgarian and Macedonian music. Two decades after that, the two friends now give us Parachilna, named after a tiny town between the desert and the Flinders Range mountains in South Australia. Armed with a laptop computer, audio software, and what the liner notes call "some excellent microphones," Irvine, van der Zalm, and sound engineer Cian Burke set out in a Landcruiser to cut this disk "in the wild" of Australia.
"I Wish I was in Belfast"
The album starts out slowly with two longing looks back at Ireland before delving headfirst into Australian lore and music with "Billy Far Out," a humorous tale of a misbehaving Range Rover and smelly socks. Then, "Sergeant Small" tells the story of a cop, disguised as a hobo, who harassed real train-hopping Australian hobos during the Great Depression; a rough, tragic story told with beautiful, swirling instruments and indignant vocals.
"Billy Far Out,"
On the emotional flip side, the soft, understated harmonies in "He Fades Away" echo the haunting tale of a Blue Asbestos miner's slow death, sung by his wife. These miners were imported from southern Europe to western Australian in the 1950s.
"He Fades Away"
No set such as this would be complete without a good shipwreck song, supplied here in the tragic tale of "The Dandenong," lost between Melbourne and Newcastle, New South Wales, in 1876. The album ends even farther afield, with "Douglas Mawson" and his harrowing tale of traveling 160 kilometers alone through the Antarctic with almost no food. (He survived and lived to age 76.)
"Douglas Mawson"
Irvine contributes bouzouki, mandola, and harmonica, with van der Zalm on guitar, mandolin, fiddle, and vocals. Irvine sings lead, with van der Zalm's backing. There's a little too much harmonica, and it can overpower the delicate sound of the string instruments, especially on the quieter songs, but the playing throughout is intricate and impressive. It's often hard to believe there are only two instruments interweaving, somewhere in the Outback. - Jeffery R. Lindholm
Song lyrics and Irvine's diary entries from the trip are at www.AndyIrvine.com
© 2014 RootsWorld. No reproduction of any part of this page or its associated files is permitted without express written permission.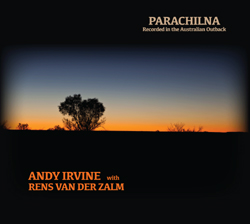 Listen