<!!!column 1>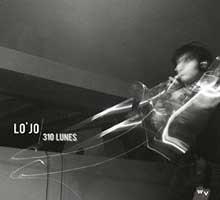 Lo'Jo
310 Lunes
This CD set was donated by World Village Music
We thank them for their generous support of RootsWorld.
Sign up for Music of the Month with a 20.00 monthly donation:
An epic adventure into the minds of one of France's most unique ensembles in a set that includes a new recording celebrating 310 months of the band's existence by reimaging some of their best songs as new works for brass and chamber group, as well as the reissue of a classic recording from 1990 and long unavailable, The International Corabou.
Sign up for Music of the Month with a 20.00 monthly donation:
Get a copy of Lo'Jo: 310 Lunes for a one-time contribution of $25.00.
---
The first disc of 310 Lunes, the new 2-CD instrumental album from veteran French globalistas Lo'Jo, is a dream of sorts: silent pictures of an odd exhibit, impressionistic scenes, human voices heard emanating from reeds and embouchures, letting brass and wood speak: clarinets, saxophones, tuba, trumpet, flute, bassoon, trombone.
310 is the number of moons that have elapsed since Lo'Jo's inception. The International Courabou, recorded in 1989 but only released privately, opens a window onto those initial dreams: the prelude to an epic journey into melodic territories through fireworks of lyrics and possibilities. Now, for the first time in almost 25 years, the album is available again as Disc 2.
Listen:


"Mo-Jo's"

"Nobby"

"Mandeed Soul"

"Kulu Kulu"
"We were four kids raised in the trade," says Lo'Jo, "roaming Europe for the first time in 1988, when Poland was still communist. In their trucks and trailers, the elders from Jo Bithume Cie took us right into the middle of gypsy fantasies and miseries, militias, Slavic wonders, a theatre of a new realm and the Jelenia-Gora festival, where street art from all over Europe nourished our adventures."
Those unusual experiences embraced a whole century of culture: jazz, American music, memories of India, harmonic whiffs of old Europe, a pinch of The Balkans, a brass band at the break of day at a circus. In addition to the two discs, 310 Lunes includes a booklet of 70 photographs of Lo'Jo by Polish photographer Bogdan Konopka.
Music by Lo'Jo, Arranged by Renaud-Gabriel Pion
Performed by a wind orchestra:
STÉPHANE COUTABLE
ÉLISABETH HÉRAULT
MICHEL MASSOT
RENAUD-GABRIEL PION
ALAN REGARDIN
Guests:
MAGIC MALIK, ROSWELL RUDD, ERIK TRUFFAZ HASAN YARIMDÜNIA