<!!!column 1>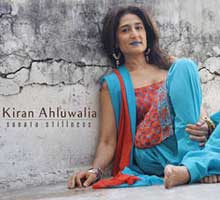 Kiran Ahluwalia
Sanata : Stillness
This CD was donated by
the artist
.
We thank her for her generous support of RootsWorld.
About the artist:
In stillness, movement is not only possible, it is a promise. Indeed, Kiran Ahluwalia's new offering, Sanata: Stillness, is nothing short of a musical roadmap to personal and global transformation. At once contemplative and rockin', traditional and innovative, Kiran's hybrid of Indian and Pakistani grooves, Saharan blues and Western Jazz shows us that borders are meaningless in one's heart and on the world stage.
Born in Patna, India, Kiran's parents survived the strife of political upheaval between India and Pakistan during partition, escaping the riots and warring factions to ultimately settle in Toronto where young Kiran was raised. Living proof that the heart can indeed show us the way, she met NYC-based Pakistani-American guitarist and arranger Rez Abbasi - a musical and marital partnership that transcends place, position, and politics.
Find out about her upcoming concerts:
February 21st at Roulette in Brooklyn, NY
March 20 at the SFJAZZ Center, Miner Auditorium in San Francisco, CA
"Jaane Na"
"Jhoom"
"Lament"
---
Sign up for Music of the Month with a 20.00 monthly donation:
Monthly subscribers will get a bonus or two durig the year.
Sign up for Music of the Month with a 20.00 monthly donation:
---
Or make a one time contribution of 20.00 (postage included) and get only the Kiran Ahluwalia's Sanata: Stillness
---
Make an annual subscription now and get all the 2015 CDs for 230.00 (save 10.00)


You can also make an annual subscription by US check or US Postal Money Order payable to:
RootsWorld
Box 1285
New Haven, CT 06505