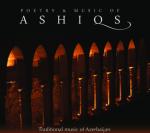 Poetry and music of Ashiqs
Traditional music of Azerbaijan
This CD set was donated by Felmay Records of Italy.
We thank them for their generous support of RootsWorld.
Along with mugham, ashiq poetry and music constitute the major part of oral music heritage of the Azerbaijani culture. Like the mugham, the art of Azerbaijani ashiq is included in the UNESCO 'List of the Intangible Cultural Heritage of Humanity' (2009).
The ashiq enjoy local popularity, with numerous centers of Azerbaijani ashiq culture in the Republic of Azerbaijan and in Iran, in Azerbaijani ethnic enclaves of Georgia and (up to 1992) Armenia; all those centers have their own creative and performance traditions. The ashiq sing at weddings and play a fundamental role in folk festivals; from the beginning of the 20th century they performed on concert stages and made their own records.
In some way the ashiq has a different creative personality when compared to other artists. He can be a composer, a poet, a singer, a musician and at the same time a performer who plays the saz, a stringed musical instrument. Sometimes he will be a dancer and a narrator of dastan - heroic, love or didactic stories where the narrative episodes are interleaved with verses and songs. Only a few of them are gifted with the talent for composing music and poems; in the same way, some ashiq are mostly known as poets while others are famous as performers of ashiq repertoire.

The musical and poetic heritage of ashiq is handed down from generation to generation as an oral tradition. The poetry of outstanding classic ashiq such as Dirili Gurbani (16th century), Sary Ashiq, Abbas Tufarganli, Khasta Qasim (17th century), Ashiq Valeh (18th century), Ashiq Dilgam (19th century), Ashiq Alasgar (19-first quarter of the 20th century) and many others more, still constitutes the active repertoire of present day azerbaijani ashiq.

Ashiq tunes can present various melodic forms. Old ashiq melodies mostly consist of declamatory melodies with frequent changes of mode and meter, along with song-like strains.
Azerbaijani ashiq presents specific regional artistic traditions distinguishing the art of Shirvan ashiq (in the eastern area of the country) from the ashiq traditions of the western regions of Azerbaijan or the azerbaijani enclave within Georgia (the milieu called Borchaly). The ashiq from South Azerbaijan (Northern Iran) have their own regional traditions. Those regional differences can be observed in the manner of performance, the type of instrumental accompaniment, the presence of a local repertoire, etc. Nevertheless, the art of azerbaijani ashiq presents an integrated artistic tradition united by common national language, poetic and musical repertoire and, lastly, by the invariable attribute of the azerbaijani ashiq-saz.
The program of the CD includes various important Azerbaijani Ashiqs, covering different aspects of the regional repertoire giving an ideal state of the Ashiq art in the country today.