Please Support RootsWorld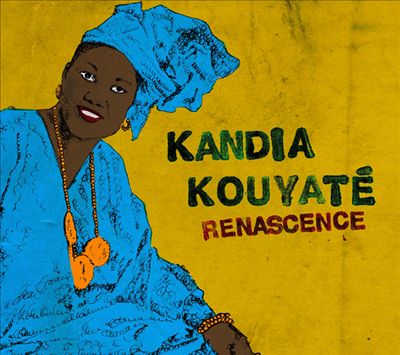 Kandia Kouyate
Renascence
Stern's Music
The reigning queen of Malian vocal music returns with a beautiful new recording, made against formidable odds. Listen and reead more below.
Make a 25.00 donation to RootsWorld and you will receive this CD in the mail soon. There are only a limted number available.
The CDs were donated by Stern's Music in NY and London, to help RootsWorld continue its mission, online and on the air. I thank them for their support.
| | |
| --- | --- |
| | "Koala Bumba" (excerpt) |
| | |
| --- | --- |
| | "Mali Ba" (excerpt) |
| | |
| --- | --- |
| | "Kassi Doundo" (excerpt) |
| | |
| --- | --- |
| | "Magoya Douman" (excerpt) |
From the CD notes:
The Mandé art of jeliya carries a long and complex tradition of fine distinctions and endless debates about the qualities that earn its hereditary poets, musicians and soothsayers the highest accolades and honorifics. But on the great jelimusolu (female singers) of our time, there is near-unanimity regarding Kandia Kouyaté: she is a ngara. More than a skilled singer, a ngara is the extraordinary artist who possesses what many would say is a paranormal aura of majesty.
"This new album was made only because of Sylla," says Kandia. "I had been ill and Sylla was gravely ill, but he was always there [in the studio], encouraging me. He asked me to sing everything I knew, everything that was in my head. I said 'I know nothing. I've forgotten everything.' But he insisted. 'Tomorrow it will come back,' he said."
And it did. Her voice, darker and richer than when it first carried her to fame more than 30 years ago, has an authority that arises from a very deep well of wisdom and spirit. It is the voice of a true ngara. Renascence is Kandia's resounding declaration of personal and artistic rebirth.