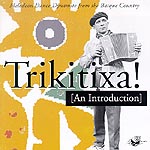 The trikitixa is a diatonic accordion which came to Europe in the early to mid 19th century via Italy. It most likely came to Basque country through the port of Bilbao much later. The word "trikitixa" originally referred to instrumental group made up of traditional basque instruments (txistus, alboka, etc ...) and the accordion. Now it refers as much to the instrument itself as to the ensemble.

This sound sample feature Kepa Junkeras on the accordion, in a short example of the music, an excerpt of a song called "Infernuko Auspoa." This comes from the excellent collection of this music called Trikitixa! (Erde Records, Germany)
There's much more about Basque accordion music in the Dirty Linen article: A Basquet of Apples.