In three recordings on her own (plus side gigs too numerous to list) and in the concerts I have been lucky enough to hear, accordionist Maria Kalaniemi has proved herself a phenomenal technician, a sensitive player with an unusually vibrant, physical approach to the instrument, a strong composer and a vital interpreter of other writers. She has toured the world, introducing us to her brand of "newly composed folk music" from Finland, and has handily thrown the term "folk" into chaos as she and her fellow musicians push into pop, jazz and art music in a way that makes the music impossible to categorize.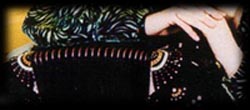 Ahma is a composers' album, with contributions from Kalaniemi, a number of new works by pianist Timo Alakotila and one each from guitarist Olli Varis and bassist Tapani Varis. The writing runs from the exuberant ("Ahma" and the brief burst of hyper-energy that is "Kampi") to the pastoral ("Kaamos"), from the romantic ("Ängskär") to the austere (T. Varis' "Nautilus"). It is also an arrangers' album, and the collaboration of Kalaniemi and Alakotila has never been stronger on that front. The six piece ensemble Aldargaz includes Petri Hakala on mandolins and Arto Järvelä on violin, and the group is as fine-tuned as they could be; Aldargaz has hit its stride, with enough time now to have developed that unifying sixth sense that marks great ensemble playing. They are aided and abetted by the fiddlers from JPP and occasional outbursts from a drummer and a horn section, all pulled tightly together by arrangements that can surprise and one or twice amaze. Ahma finally takes Kalaniemi out of the "folk" music box and into the broader world of popular composer and musician, and she seems poised to move even further outside in the future. – Cliff Furnald
Iho
Olarin/Finland, Ryko/US

A striking recording. Kalaniemi's backing band, Aldargaz, is the best of the bunch in Finland, a small place with plenty of great artists. Timo Alakotila contributes harmonium, grand piano, arrangements, and a few of the best songs on the album. The stellar fiddler Arto Järvela is there, along with bassist Tapani Varis and guitarist Olli Varis (more mature and showing signs of greatness!). While not a regular member of the band, the presence of mandolin player Petri Hakala is also felt throughout the album.

The original quintet has been working together for years, and have become an intuitive force that lends itself to the more complex arrangements and intricate melodies that mark the new work. They are joined on record by string and brass ensembles for a few tracks, giving an orchestral fullness to "Napoleon" (Real Audio file) a traditional tune that shows all the character of an Alokotila production. The other is "Linjärv," which starts as a jazzy, Swedish tinged accordion solo that shows off why Kalaniemi is one of the best in the world, and then grows into a strange blend of acoustic power pop and classical chamber music. Perhaps at the core of the new album is the lush "Green Score," a tune that literally brought tears to the eyes of a friend listening to it live a few years ago. This composition by Timo Alakotila seems at first just nice and breezy, but builds almost imperceptibly into something indescribably romantic, not in a cheesy cinematic way, but on a more mature, personal path. Kalaniemi's playing has never been more expressive, the songwriting never stronger than it is on Iho. - CF
Niekku
Niekku 3
Olarin Music

Niekku
Niekku 3
Olarin, Finland

The five women who comprised Niekku were all former students of the country's only music "high school" and are now performers and teachers. They sing warm, gentle harmonies, play accordions, kantele (the lap harp), mandolins, bass and fiddle. The music they make on Niekku 3 (Olarin Music, Finland) is deceptive, in that the tones of all the instruments and voices are usually light and sweet, but at times the groupings of the harps and voices gets down-right furious, and once or twice it even gets a little skewed and bizarre. One tune weaves its way through music box-like melodies on the kantele, with the accordions eventually overwhelming them in discordant madness, and then drifts slowly back to the ground. It is this splendid use of old instruments and new ideas that typifies Niekku's approach to their music. - CF