Fliflet / Hamre Energiforsyning
Ivar Aasen Goes Bulgaria
Larhmsteiner Elite / Norway
(musikkop@notam.uio.no)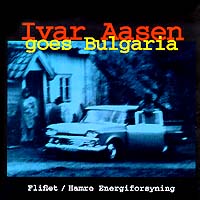 There is no simple explanation for this duo from Norway. Gabriel Fliflet plays the accordion... well, he attacks as much as plays, and while his skill is formidable, his energy is boundless and it makes the whole thing explode. There are lots straight squeezebox sounds, but he's not afraid of distortion or a wah-wah pedal now and then (see sound sample).

'springar'

Ole Hamre is an amazing drummer, with a sense of humor and an ability to play any style from anywhere, sometimes simultaneously. That's it... the whole thing is drums and accordion live, with the recording offering small touches here and there of guitar and bass. The name Energiforsyning means "power supply" and they are a giga-volt source.

'Vesel Cucuk'

The tunes are from "ethnic" sources, using tunes with odd time signatures from places like Macedonia, Serbia, Turkey and Bulgaria, shamelessly mixing in Scandinavian sources with Tex-Mex and pure power pop. The real beauty of this duo is how tight they are. They have an intuitive relationship that anticipates even the most bizarre turns of phrase or change in tempo and time signature. Together they make music that is unbefitting of verbal description, music that makes the live audience shout encouragement and roar with laughter, and will make the record listener's head spin. - CF

Sound files are traditional, public domain, used by permission of artists.

See also: Norway, accordions

Sign The Free Reeds Guest Book!