BeauSoleil avec Michael Doucet
Cajunization
Rhino (www.rhino.com)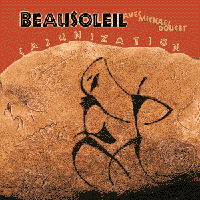 Michael Doucet has always contended that Cajun music is more than a mere collection of waltzes and two-steps. But nowhere is that statement more evident than on Cajunization, undoubtedly their most eclectic yet. The band's roots are still solid, with splendid renditions of Dennis McGee's "Happy One-Step," and "One-Step a Choupique," and Doucet pens a pretty good traditional sounding tune himself ("La Reine de Coeur"). But in many ways Cajunization offers food for thought: what would Cajun music be like if exiled Acadians had made a few different stops en route to Louisiana.
Doucet masterfully ties it all together as a plausible explanation of Cajun music. "Cubano Bayou" blends the sweet sounds of steel pan drums and tropical percussive beats with Jimmy Breaux's Latin-esque accordion; "Maui Nights" features dobro-miester Jerry Douglas on Hawaiian guitar. Yet, both originals were inspired by previous recordings -- the former comes from Yvonne LeBlanc's Cajun French recording of the Cuban tune "Mama Inez" that included accordionist Nathan Abshire while the latter stems from the Hackberry Ramblers' 1936 recording of "Rendezvous in Honolulu." There's even a Cajun surf song, "Atchafalaya Pipeline," a strange but delightful mix of beach-bayou sounds featuring Dennis McGee's son Gerry, the guitarist who fronted the popular group The Ventures.
It's not all a series of Cajunization scenarios. Much of it strikes closer to home with finely executed dollops of musicianship and sentiments that are distinctly Cajun. Doucet's songwriting continues to stretch with celebratory songs of ancestral pride ("My Grandfather's Land"), an eloquent Cajun-folkish account of 'Le Grand Dérangement' ("Recherche d'Acadie"), and some slinky, Dixieland-zydeco blues ("Les Blues de Chaleur"). "Chanson pour Tommy" is a moving tribute to the late Tommy Comeaux, the beloved BeauSoliel member who smiled almost as widely as Canray Fontenot. If you're looking for a driving dancehall album, forget it. This one is a Cajun art album, ideal for framing. - Dan Willging
See also: Louisiana, Accordions