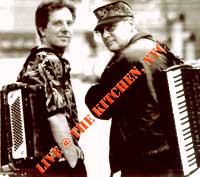 New York "new music" performer/composer Guy Klucevsek and famed klezmer accordionist, pianist and composer Alan Bern (musical director of Brave Old World) might not at first seem like the most likely of collaborators, but this recording proves that logic is not art. These works were recorded live at The Kitchen in New York City. (appox. 45 minutes)
Guy Klucevsek: accordion
Alan Bern: accordion and piano
This concert was only available during the 2000 Free Reed Festival and we are not able to offer an archived version, but Guy will be returning to the 2001 Festival so check in during the month of June for more music..
The music from this concert was the basis for the CD Accordance
Audio © 2000 Klucevsek/Bern, used by permission