Accordions and Bagpipes in Irish Music
Squeezeboxes
The accordion and its free reed relations, the concertina and melodeon, were not always welcome in Irish traditional music circles. The fact that they are mechanical instruments, with sounds created via a bellows blowing air over reeds, struck some early aficionados as soulless. The melodeon was the first free reed to break through, and it was in wide circulation by the end of the 1900s. The piano accordion gained adherents during the twenties, due to a growing appreciation for its possibilities as a portable orchestra. While never as prevalent as the fiddle, flute, guitar, or pipes; the free reed family has gradually achieved a place of honor.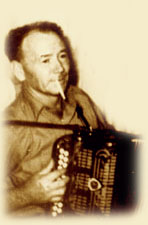 County Galway's Joe Cooley is highly respected in Ireland and in the United States, where he lived much of his life. "Cooley" (Gael Linn) is an intimate introduction to the man and his playing. Joe Burke, a native of County Galway, an All-Ireland winner and a 1970 RTE Traditional Musician Of The Year, is also an icon. Burke's style is controlled, but also light-hearted and robust. "The Funny Reel" (Shanachie), "Happy to Meet & Sorry To Part" (Green Linnet) and "The Tailor's Choice" (Green Linnet) are all Burke in his prime. Sharon Shannon, from County Clare, is another fantastic player. She is a notable fiddler, and aspects of each instrument turn up in her handling of the other. "Spellbound" (Green Linnet), a fine "Best Of", was released in 1999, but 1997's "Each Little Thing" (Green Linnet) is worth having in its entirety. Other accordion-based albums to own would include James Keane's "With Friends Like These" (Shanachie), Martin O'Connor (formerly of De Dannan)'s "Perpetual Motion" (Claddagh), and Joe Derrane's "The Tie That Binds" (Shanachie)
An interview with Mary Staunton
An interview with Sharon Shannon
The Uilleann Pipes
The uilleann pipes are descended from prototypes that flourished in Ireland during the Dark Ages, but a specifically Irish bagpipe probably emerged during the 18th century. They are smaller and gentler-toned than its larger, mouth-blown Scottish cousin, and their mildly nasal tones are propelled by a bellows under the musician's elbow. In the hands of a great player, the uilleann pipes are capable of concise and complex ornamentation; as well as tragic and tender slow airs. The pipes have profoundly influenced the technique and repertoire of other instruments, especially flutes and fiddles. Formerly for solo use only, they are now employed in a variety of settings.

The playing of Leo Rowsome (1903-1970) sets the standard. Through his tasteful, exquisite piping, he established the uilleann pipes as a cultural symbol. "Classics Of Irish Piping" (Topic) shows off his remarkably uncluttered style, and although many of the tracks are from before the stereo era, the sound quality is excellent. His contemporary, Willie Clancy, was also a multi-instrumentalist and a fine singer. He was a pupil of the traveling piper, Johnny Doran, and his style was brisk and masculine. "Willie Clancy - The Minstrel From Clare" (Shanachie) displays his art to full advantage. Seamus Ennis (1919-1982) was a piper of note, plus a producer, broadcaster, and linguistics expert. He was a famous storyteller and collected songs throughout the British Isles. "Forty Years of Irish Piping" and "The Wandering Minstrel" (Green Linnet) are invaluable archives of his work.
Paddy Moloney of The Chieftains is, of course, one of the greatest living Uilleann pipe masters. Paddy Keenan, a third generation piper from Dublin, became famous as a member of The Bothy Band, but he is an excellent soloist as well. He cites Johnny Doran as his inspiration, and many of his stylistic innovations are now standard practice. On "Doublin" (Tara), he is accompanied by his father and brother, plus Paddy Glackin on fiddle, but it's his album all the way. Jerry O'Sullivan is the piper heard on the soundtracks to "Far And Away" and "Out Of Ireland", and his album "The Gift" (Shanachie) is exactly that. Davy Spillane is prominently heard on "Riverdance" (Celtic Heartbeat) and on several soundtracks. He has since applied the uilleann pipes, with varying degrees of appropriateness, to a wide array of musical traditions. His recordings are at least worth a listen, but fans of acoustic music may have problems with some of his choices.
© 2000 RootsWorld
No portion of this work can be copied or transmitted without express permission.