The Harp And Turlough O'Carolan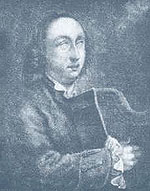 As in Scotland, most traditional Irish music is descended from the Bards, a caste of itinerant musicians who played a wire-stringed harp known as the "clarseach", which has a chiming, resonant tone. "Brian Boru's March," which dates from before the Dark Ages, is a bardic tune and has been recorded by The Chieftains, Clannad and innumerable other groups. It and most other bardic melodies were based on modal scales, which formulated especially subtle and poignant melodies.
The blind harper, Turlough O'Carolan (1670-1738), was the most famous of the latter-day bards. He composed pieces he referred to as "planxties" which were often dedicated to his wealthy patrons. Only a fraction of his works were written down, after his death and without arrangements; so what his music sounded like in his own day is unknown. There are legends that he exchanged melodies with the Baroque composers of the day, and that a much-recorded piece known as "Carolan's Concerto (he is generally known simply as Carolan - without the O')" was a result of this.
The Chieftains' harpist, Derek Bell, has made a series of important recordings under his own name. He often plays on metal-stringed harps, as well as the more usual gut-stringed versions. His albums dedicated to Carolan's works, such as "Carolan's Receipt" (Claddagh), "Carolan's Favorite" (Claddagh), and "Ancient Music For The Irish Harp" (Claddagh), are all thrilling evocations of another time. "The Celtic Harp" (RCA), featuring the Belfast Harp Orchestra, is sheer pleasure from start to finish.
Grainne Yeats, the daughter of the poet W.B. Yeats, was an early champion of the harp and her recordings on Gael Linn are important historical documents. Mary O'Hara, a trailblazing former nun, can be heard on "Song for Ireland" (Shanachie), and Antoinette McKenna's perfections are well represented on "The Best of Antoinette & Joe McKenna" (Shanachie). Máire Nì Bhraonáin does spectacular versions of Carolan with her home band, Clannad. The celebrated harper, Maire Ni Chathasaigh (who has her own label, Old Bridge), and The Douglas Gunn Ensemble (Gael Linn) have reimagined Carolan's music as it must have sounded during his lifetime. Patrick Cassidy, a harper who is best known as the composer of such neo-classical oratorios as "Famine Remembrance" and "Deirdre Of The Sorrows" (Windham Hill), has also recorded an elegant "Ascendancy Baroque" recreation of Carolan's music called "Cruit" (Gael Linn). Although it is not entirely dedicated to Carolan's works, Dordan's "Irish Traditional And Baroque" (Shanachie), featuring the harp of Kathleen Loughnane, is a learned and delicate period piece. Any album by the wire-string harper Patrick Ball should be bought on sight - he is second only to Derek Bell in scholarship and virtuosity. Emily Mitchell's "Irish Harp Songs" (BMG) may be a bit precious for some tastes, but the album has considerable charm.
Article by Christina Roden
More Celtic Music 101
© 2000 RootsWorld
No portion of this work can be copied or transmitted without express permission.